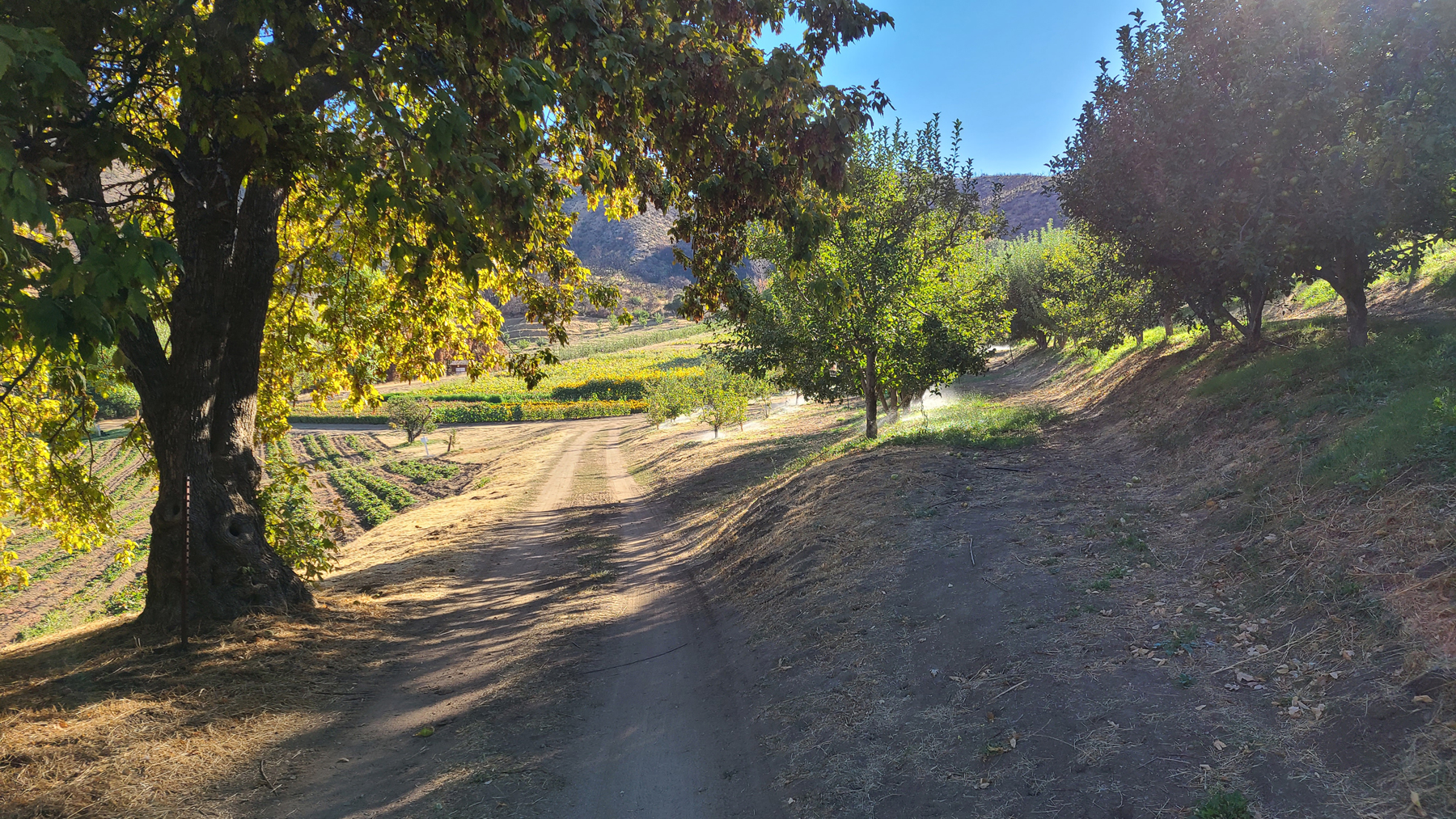 12 Comments
Announcements
This week we have a lot to harvest (pears, three different apple varieties, flowers, a few berries).  The Colonial Village will be in full swing this Saturday (9/18) with an added bonus:  veteran living historians, Allen and Kathy Hughes, on colonial cooking. (Follow the link to save on your tickets.)  The Packing Shed Barbecue will be open with live music as will the Hawk's Head Tavern.  Sleepy Hollow has never sold out this early in the season. We're opening up one more date (10/20/2021).  Get your tickets here. ( Farm Map ♦ Saturday Schedule)
Farm Life, Random Stuff
Entropy
Most of these farms up here in Oak Glen are run something like small cities.  We have to run our own water, roads, power and sewage departments, except that we have no convenient taxing authority.  (No wise cracks, either, about federal "relief" in the face of Fauci's Covid incompetence.)  This elevation up here, as well, makes for cycles of hot/dry/wet/cold that would challenge the maintenance department of a tall ship.  Paint peels.  Pipes freeze.  UV Filters start beeping.  Lightning circumvents the UPS power back-ups, causing old man Riley to age two years wondering if the field trip database has been backed up. Tractors knock over irrigation pipes.  Grandma and Grandpa's home on the farm has been assailed by woodpeckers and we need to engage in an expensive re-siding project.  It never ends.  Whenever I get a phone call or a text, I wonder how much we have in our bank account.
Against this backdrop, last night, wandering down a dark hallway in our home, past midnight, I hear water running.  I look in the bathroom sink on my left.  Nothing.  I check the toilet.  Nothing.  Still, in the dark, undeniably, I hear water running.  I lean my head against the wall, to see if some pipe has burst.  I run around the other side of the house and look to see if the refrigerator ice-maker has gone off the reservation.  Nothing.  I get the super-power flashlight and head back to the source of the sound.  Beneath me, on the floor I see the source of my panic: it's a doggy drinking fountain.  Mary purchased a gurgling freshener for Archie the Airdale's water bowl.  He looks at me forlornly as though to say, "why do you worry so much, Jim?"
As I go back to bed, I believe I hear Archie whistling, and then singing, "here's a little song I wrote.."
The Many Don Drapers of Riley's Farm
I've debated, here, the value of souvenirs and mementos.  I'm  not sure why, when they are on display in a trinket shop, they have such a bad name.  I imagine it's because souvenirs are something like dad endlessly taking pictures of the family on vacation.  Everyone finds it annoying when it's happening, but decades later, when the family sees the images up on screen, set to some Kenny Loggins tune, they are reminded of that afternoon on the beach–and people start weeping.  That memory is suddenly one of the things you protect with your life.  You grab the scrapbook when the fire is raging all around you.  People tend to have the same feeling about even the one magnet they picked up on their trip to Madrid.  It reminds them of that laugh they had over one too many beers in the plaza.
Well, in my bid for the farm to be tearfully, joyfully remembered someday, I threw our Sleepy Hollow design out to the farm team for their consideration and my design got a big thumbs down.  Things I didn't know:  women won't buy a t-shirt with a face on it, (a photographed face) if it's on the front of the shirt.  Who knew?  I walk the farm every day with my Johnny Cash Man-In-Black T-shirt.  Also, I guess all the art work these days is on the back of the shirt, not the front. A new trend, Gabriel tells me.  My compromise is this:  my logo on the coffee mugs.  The team's logo on the T-shirts.  Team Brom or Team Ichabod.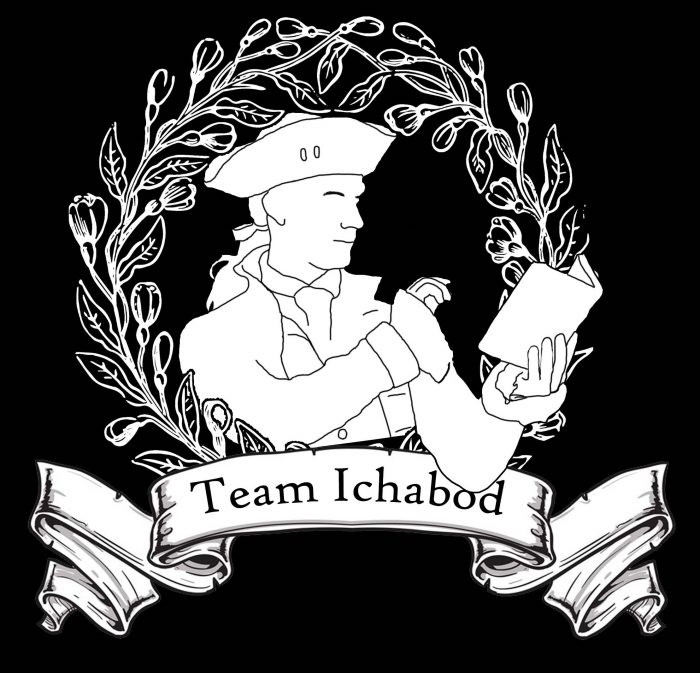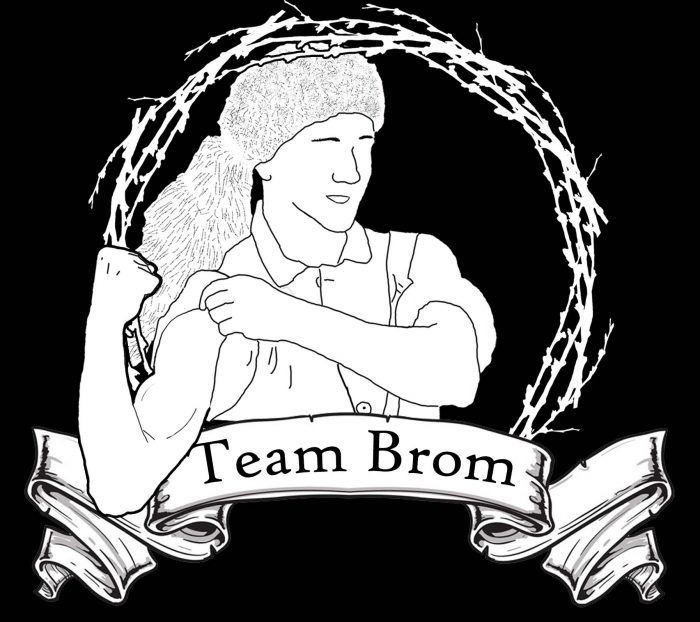 What Do You Want to Be When You Grow Up, Johnny?
"An INFLUENCER," says little Johnny.
Background:  I am only saying, and writing, what most of you normal, God-loving, country-loving people are thinking.  One of the things I've learned about my scrapes with the media is that they don't have much of an audience anymore.  There's a reason why Joe Rogen and Steven Crowder are watched with more intensity and interest than CNN.  A few years ago, when a local network television news station began tut-tutting about our First Amendment fight, I was a little depressed but then Mary reminded me, "no one watches local news anymore."  She was right.  No one even called us about the segment.  No one even saw it.  A lot of my blog entries here have more reader comments than the Press Enterprise or the Orange County Register.  The local digital, print, and television media has become about as legitimate, and trusted, as a California election.
If you run a business, in other words, start telling your customers what you really think.  You probably have a much larger, and saner, audience than any of the woke house-fraus mouthing off in the neighborhood Patch or the Facebook community groups, and it's almost guaranteed: you will have FAR more credibility than the average unpaid HuffPo or network news contributor.  And what's more?  You will be serving your country.  Totalitarianism is achieved by small bands of violent weirdos.  (Think about the Bolsheviks and the Munich Brown Shirts).  Do NOT let the weirdos take over.  Speak up!
Now, of course, you will get stuff like this (below), but think about it this way.  If these violent weirdos HATE you, then you must be doing something very right and very necessary.

Beautiful Black Granite
Our bakery windows were looking pretty ragged so we got a really good local painter/contractor to paint the front of the bakery and replace them with gleaming black granite.  When I was a kid, I always thought that granite was a junk rock, something you settled for when you couldn't find gold or amethyst–but monolithic, tightly grained granite is both beautiful and reasonable rare.  Were I not a living historian and an all-around dilettante, and too absent-minded to use power-tools, I would be in the granite business.  LOVE the stuff..
I also replaced my computer keyboard for easily the 300th time, since 1984.  Most of them fall victim to too much taco-eating-while-computing.  This one has a super festive LED color display.  Life is getting better, folks.  Don't let the social justice warriors screw it up.
Riley's Farm Named Best Apple Orchard in California
Of course, until some woke Covid Pharisee starts complaining.  A few years ago, Reader's Digest did the same thing and some David Hogg fan voided her bowels in woke consternation, complained, and suddenly the next farm over was the best in California.  My advice to just about everyone outside of Portland, Oregon:  Don't be afraid of complainers.  You know that one couple you see at a dinner party where literally everyone in the room is thinking "how does that poor man live with that woman?"  That's the profile of the average social justice consumer warrior.  Not even their mothers love them.  If you name a farm best in California, Reader's Digested-For-You, then stick by your claim, dude.
I Know that My Redeemer Lives
I love the "Duke Street" version of this hymn and I was trying to teach myself the bass and soprano part, by patching the complete version to my headphones and singing against that into the microphone, then re-assembling it all in Premiere.  Mary, who is generally very supportive of any new obsession I have, suddenly began making unsolicited observations about how she knows her limitations.  Actually, whenever I start singing, people begin talking about knowing their limitations.  It's uncanny.  Come up here and talk to me about it this Saturday, or, better yet, teach us how to sing on Sunday.









Tags: Dog Water, Entropy, Farm Schedule, First Amendment, Influencers, Maintenance, Map, Media


Categorised in: News

This post was written by Jim Riley