Riley's Mercantile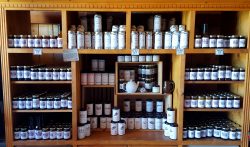 Come visit us at our Mercantile which has plenty of souvenirs, gifts, and sweet treats to help you remember your visit for a lifetime. Riley's Mercantile has two locations specializing in unique 18th and 19th century merchandise like you can find no where else.
In support of our parent establishment, Riley's Mercantile provides quality products which vary from Historic Novelties to seasonal U-Pick fruit. With such a fascinating variety, there is something to please the whole family… even your family!
Our scenic and rustic location highlights the atmosphere of long ago and allows you to take some of the experience you love home with you.
To receive regular updates about

the Mercantile and follow us on our Facebook:
https://www.facebook.com/rileysmercantile/