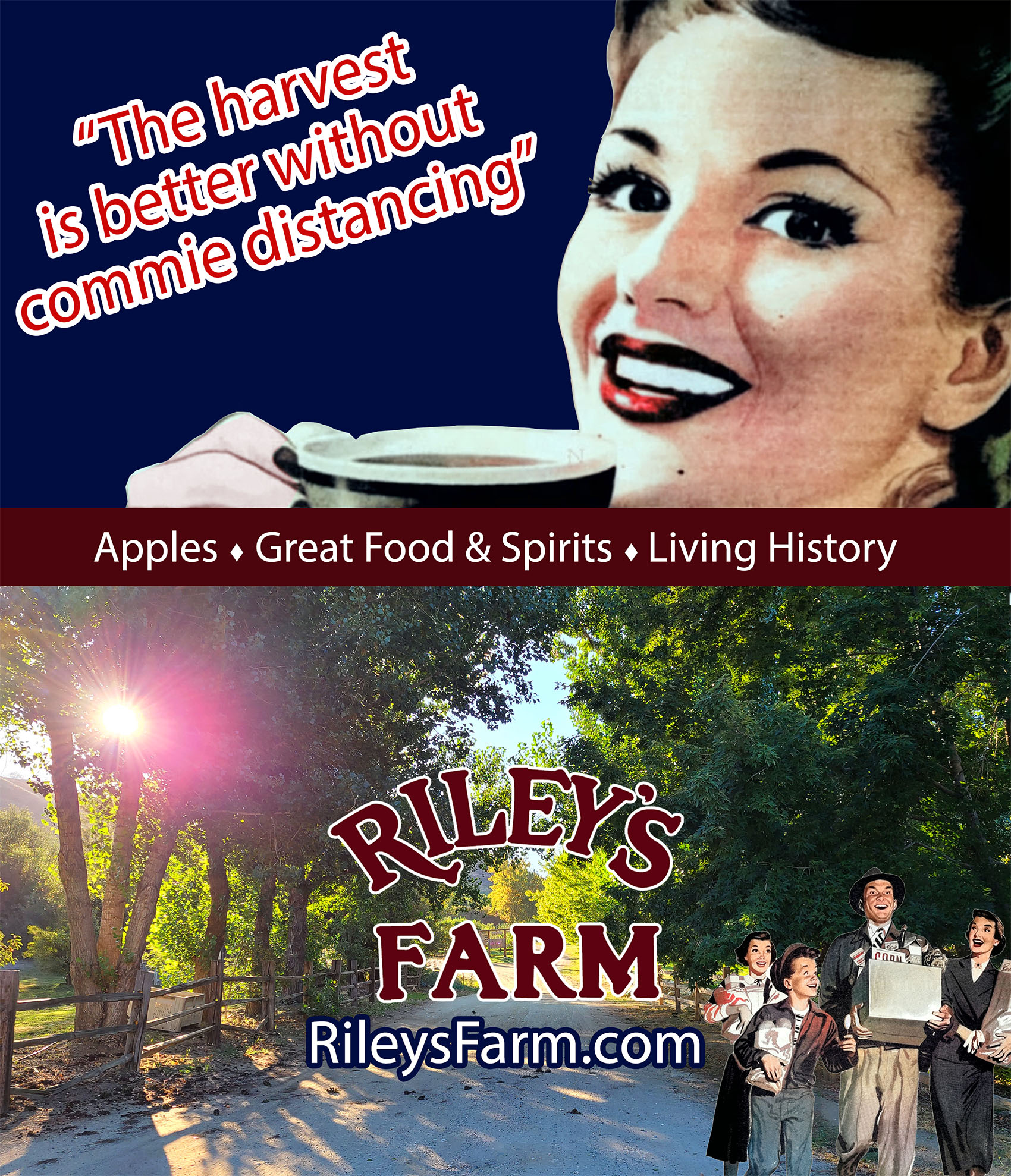 27 Comments
Press Enterprise Scandalized!
Jennifer Iyer of the Redlands Daily Facts got an earful from me last week when she called about our "Commie Distancing" ad in the Yucaipa News Mirror.  The truth is our commitment to "old normal" is extremely popular with our guests (read the comments), and the farm really is a nicer, more friendly place without a lot of high-maintenance Covid Pharisees walking around.
A lot of local news has descended into "reporter as busy-bee gossip," trying to summarize the really juicy, and vicious commentary that surrounds neighborhood social media.  Seriously, if you want to read entertaining neighbor-bashing there's nothing quite like a Facebook community group.  It's a great mix of the completely uninformed and the occasional genius–and it's brutally honest, unlike "official" media.  Jennifer did her part, in 2018, to cover a public school teacher on campaign against us (anonymously, on taxpayer time) and that all resulted in a case now before the Ninth Circuit Court of Appeals.  Old guys like me, on our own time, simply can't use the First Amendment to warn people against genocidal monsters like Louis Farrakhan or Constitutional dolts like David Hogg.
Or can they?  I guess we'll see.  Judging by the three judge panel's questions, there may be grounds for hope.  (Video)
The Money
A little background on our Covid era financial help:  I did some rough ciphering and my guess is that during our time in Oak Glen, our part of the Riley family has shelled out $23 million in payroll and at least $6 million in taxes.  We do what very few "smart" business people even think of doing.  (Guess what the "highest and best use" of this land would be, conventionally thinking?  Five acre estates.  Housing.)  We take largely unimproved farm land and we open it up to the public, at great financial risk.  We don't pay ourselves that well.  We teach children history.  We host dances and stage plays.  We let families know what it's like to pick apples and pumpkins.  Our guests love the place, and we do too, but it's not easy.  We may make it look easy, but it's not.  Expensive well pumps die.  Liability insurance has to be paid.  Property taxes come due.  A new headache every day, just to keep the blessings on their toes.

Along comes a virus engineered in a lab and paid for by our tax dollars.  If that weren't bad enough, global policy elites, with their hair on fire, decide to scare potential victims half to death–unnecessarily as it turns out.  If you count people who die "with" as opposed to "of" Covid, it appears to kill about 0.18% of the population, and those heavily skewed in the direction of the very old, the obese, and the diabetic.  Unlike Sweden, where leadership calmed down, followed the science, and looked at how respiratory viruses behave, a lot of the world locked-down.  Bill Gates opined, weirdly, that baseball games and mass assemblies would never come back.

What did this do to us?  Riley's Farm?  Well it immediately wiped more than a million dollars off the books.  It sent 105 employees home.  I can remember how foggy those weeks were, the loneliness of the place, taking the trash out by myself and wondering whether Mary and I would have to finish our years in a trailer, or on someone's couch.   We had enormous bills coming due — insurance, property taxes, our last payroll. For those of you who have never run a business, you can't just wipe all of your sales off the books and keep paying bills incurred when times were normal.  One extended relative actually lectured me:  "you should always have enough in reserve to weather things like this."  That's a bit like saying "have a financial plan for Nagasaki."

Did we take the federal loan?  Of course we did.  We took every dollar we could find.  The federal government owes us that and more.

If I designed a virus that killed your grandmother and scared your customers into isolating at home for months on end, would you seek damages from me?  You bet your @ss you would.  

Now, in the flawed world in which we live, the federal government won't see it that way.  They will demand their money back, and, frankly, rather than face that burden, we considered shutting down completely — just like millions of small businesses across the country, who properly concluded federal policy makers were too dumb to stabilize the markets, and provide any hope for the future.  We remained in business because this is our purpose, our lives, our love.

We realize there were lots of people who transitioned to working at home, who saw it all as "loving your neighbor," who called this little pandemic response an "inconvenience," I ask you to put yourself in the shoes of millions of small service businesses–restaurants, salons, inns–who didn't have that option.  Ponder the people who saw their life's work destroyed.  Are you loving that neighbor too?  Moreover, have you thought this all through?  Have you considered what it will do to the global economy?  We can't place orders these days without warnings about delays on vital materials.  Are you anxious to slip into third world poverty?

And, more important, have you considered the social and spiritual consequences of raising your children with masks over their faces from toddler to teen?  Are you really willing to give up on weddings, funerals, birthday parties, church, travel, celebration?  Are you going to do everything the federal government tells you to do, no matter how evil or ridiculous?   Warning:  don't read this link if you have a weak stomach.  The same academic discipline that considers 12,000 dead vaccine victims a necessary evil, uses fetal tissue, apparently without the slightest regret.  Are we really taking orders now from the sort of people who can graft a fetal scalp onto the back of a mouse, for "testing?"

Maybe so.  Joe Biden just gave the Taliban billions in military equipment, and pallets of cash–and a few local Covid Karens are worried that a tax-paying American business is getting a little "relief."

Go figure.  (Unless that is now illegal too.)

Tags: Commie Virus, Covid, Federal Loans, Jennifer Iyer, Press Enterprise


Categorised in: News

This post was written by Jim Riley