Dinners

Riley's Farm Theatre Company 2018 Season Passes now available! Learn how to save big on all our shows!
"A fine work of art – music, dance, painting, story – has the power to silence the chatter in the mind and lift us to another place."
-Robert Mckee, Story
            Since the farm's founding, James Patrick Riley has had an undying passion to tell stories and entertain visitors who journey to Oak Glen. Now, twenty-years later, Riley's Farm has become a destination for families all over southern California. Riley's Farm Theatre Company has steadily grown from the support of its loyal patrons, who visit with eager anticipation each season. Presenting each play in our historical 1880's packing shed, the theatre company has taken on a reputation as a modern depiction of Irving Berlin's 'Holiday Inn', offering staged entertainment, live music, historically-inspired farm-fresh cuisine, contests, exciting activities, and a charming, rustic atmosphere. Please join us on one of our adventures; an enjoyable, family-friendly experience you will wish to make a tradition!
Dinner events also feature a diverse offering of craft beers, hard ciders, and fine wines available for purchase. Please enjoy responsibly.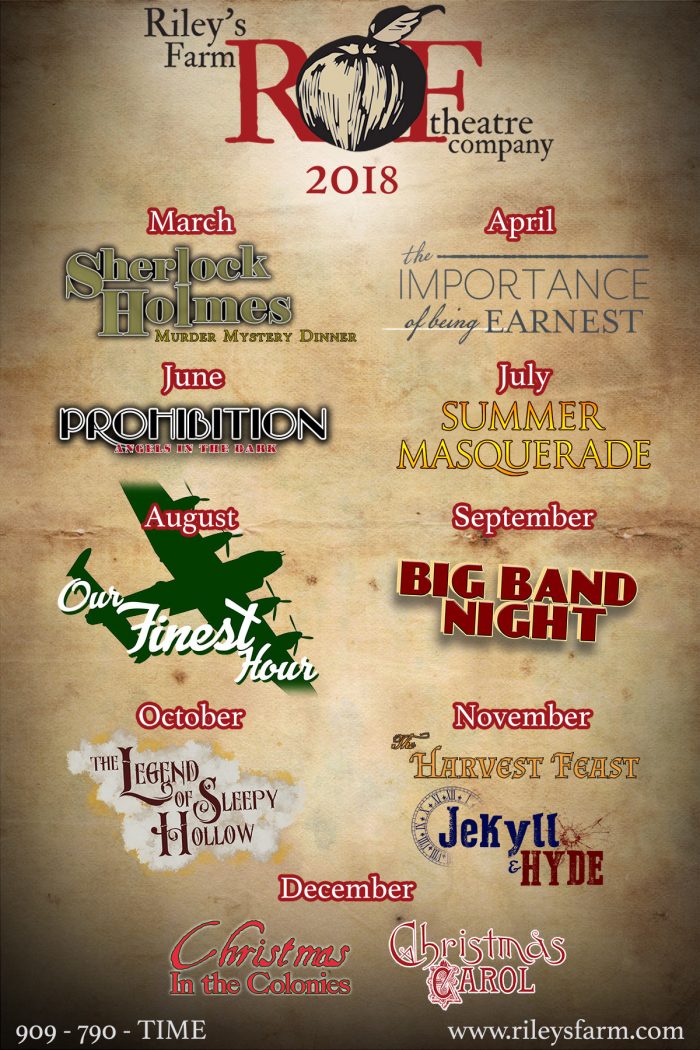 2018 Season

March – Murder Mystery Dinner Theater – All Ages
Adult $48-$50, Child $33-$35

August – Live Music Dance Night – All Ages

September – Live Music Dance Night – All Ages

September & October – Harvest Contests, Hayrides, Dinner Theater – All Ages

November – Intimate Tavern Theater – All Ages

December – Holiday Dinner Theater – All Ages

December – Intimate Holiday Tavern Theater – All Ages
MISSION STATEMENT
     RILEY'S FARM THEATRE COMPANY is a dinner theatre troupe focused on four primary goals: to delight guests with family-friendly shows based on classic literature and thrilling historical events; to give patrons the opportunity to experience high-quality, wholesome entertainment and farm-fresh comfort cuisine surrounded by the country charm of scenic Oak Glen; to utilize and grow the theatrical talents of actors and educators who perform Living History tours at Riley's Farm; and to present the best possible combination of theatrical, musical, and concert works each season.
Testimonials
"Exceptional work!! On opening night, there were folks who gave a standing ovation! It brought tears to my eyes. ALL the actors really did a fantastic job! Can't say enough good things about it."
"Yesterday, and last night, my husband and I visited the farm during the day and attended the Sleepy Hollow event at night. We are history and literature buffs and we were SO impressed with your farm and the show/party that I had to write and tell you. Your farm is really the only Fall-ish place we have here in SoCal, in my opinion! The Sleepy Hollow event was so much fun and well done. I very much appreciated the prayer, in Jesus's name, too before the meal. That sealed the deal! Haha. And thank you for creating a Colonial Adventure for us folk that can't get to the east coast so readily! Love, love, love it and we will be back for the Harvest and Christmas in the Colonies Feasts. (ps. And I don't normally write these things!)"