Bakery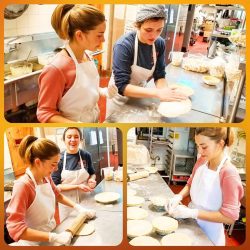 We will open up the bakery window for 
a limited menu on Fridays and Saturdays from 11 AM – 4 PM.
Please make sure to indicate your pick-up time!
For now, pre-orders only..
Why it pays to order ahead…  Believe it or not, it takes a lot of work to make an honest apple pie.  We only make as many as we think we're going to sell, and if you arrive too late, we might not have any!     You know you'll be visiting Oak Glen soon.   Why not put your name on a pie ahead of time?
 Bakery orders must be placed at least one day prior to your pickup date.  Remember to check the current COLONIAL CHESTERFIELD BAKERY hours before selecting a pick-up date & time (and note that we are always closed on Sundays).  Pick up your order at the bakery in Colonial Chesterfield (pictured below) unless you are attending a field trip at the Packing Shed location.