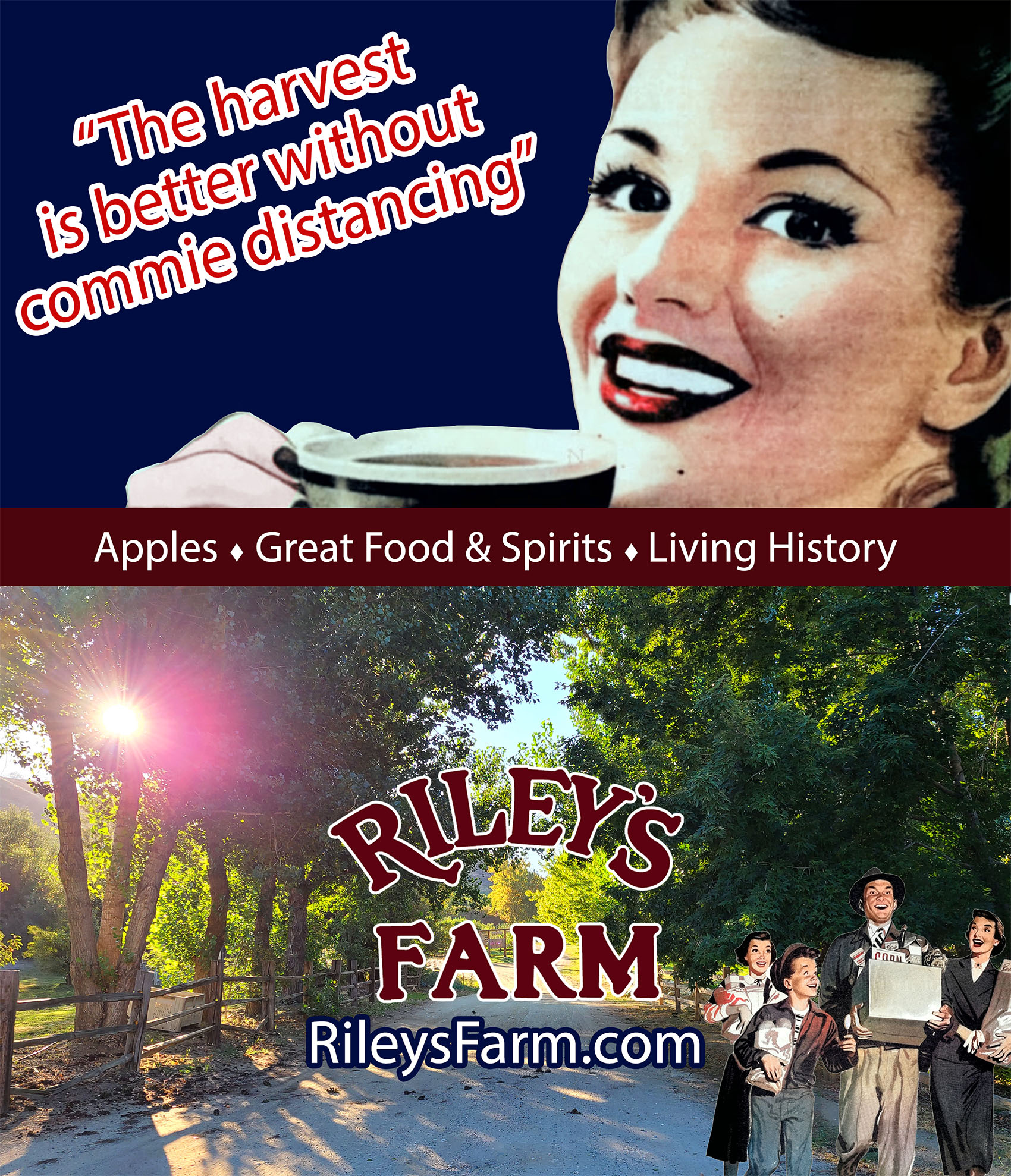 23 Comments
Press Enterprise
Why are you running such a provocative advertisement?
James Riley
Our guests, like most sane people, are sick of Covid hysteria and absurd over-reaction to the virus.  This bug was engineered, thanks to US funding, in a Communist laboratory.  People deserve to ridicule the evils of Communism and the incompetence of idiots like Anthony Fauci.  If people can't walk around in a 760 acre orchard, gather Vitamin D from the sun, and celebrate not having to observe social distancing, something is wrong with them, or, at the very least, they have a broken sense of humor.
Press Enterprise
But how has Covid policy hurt you?
James Riley
Oh, let's see.  It wiped a million dollars in field trips off our books.  It sent 105 of our employees home.  It petrified consumers needlessly. It encouraged healthy workers to take tests when they had no symptoms.  It kept people from church, weddings, celebrations and LIFE. In Australia, four babies died because of their government's idiotic lock-down.  Should I go on?
Press Enterprise
I know you've received plenty of corona virus relief dollars from the federal government. How is it not a contradiction to accept COVID relief money but be against COVID safety measures?
James Riley
The federal government owes me that by way of damages. Do you think if I engineered a virus that killed 4 million people globally I wouldn't have to settle up with the families of the people I killed and the businesses I destroyed?  Besides, it's not "relief."  It's a loan.  I'll have to work until I'm 95 to pay it back.  Furthermore, by my being really stupid and deciding to stay in business and employ people, the payroll loans just kept the federal and state governments from paying unemployment.  Think about it: the Feds knew they had to provide that capital or they would have had even more people opting out of a working life forever.  ("Oops, we destroyed the markets with hysteria.  Maybe we'll call loans 'relief.'")
By the way, nothing bothers me more than slow-witted Covid Pharisees who regard all of this as a "minor inconvenience."  Is it a "minor inconvenience" when people have to take the jab or lose their job, when cancer patients can't get care, when those Australian parents lost their babies to a travel ban?
Press Enterprise
Regarding the appeals case, any idea when the judges will rule?
James Riley
You can't make predictions but it's fairly obvious my First Amendment rights were violated.  Both the original Federal district judge said as much and the judges at the Ninth Circuit seem to agree. (Watch the video).  It's really now a matter of deciding whether the First Amendment is more important than using qualified immunity to protect civil servants too bothered to respect the Bill of Rights.
Press Enterprise
Thanks for your time.
James Riley
Thanks for the publicity.  Walk-on sales are up.
Tags: advertisement, Commies, Covid, Press Enterprise


Categorised in: News

This post was written by Jim Riley