FOR IMMEDIATE RELEASE May 5, 2016 Contact: Sheri Shields Sheri@rileysfarm.com (909) 790-TIME (8463)
GLAM CAMPING AT RILEY'S FARM
Riley's Farm now offers glamorous summer camping in Colonial Chesterfield.
The past is only a moment away at Riley's Farm!  Couples, families, and youth groups can now enjoy a summer overnight stay and immersive experience in America's revolutionary past with glam camping (also called "glamping" – a portmanteau of "glamorous camping").  Guests may now book an overnight glam camping experience in a charming 20×20 colonial marquee tent.  For couples and families the marquee tent is fully furnished with a comfy four poster queen bed (plus up to four well-appointed cots for the children), luxurious linens, antique furniture, a full length mirror, and private en suite dining area.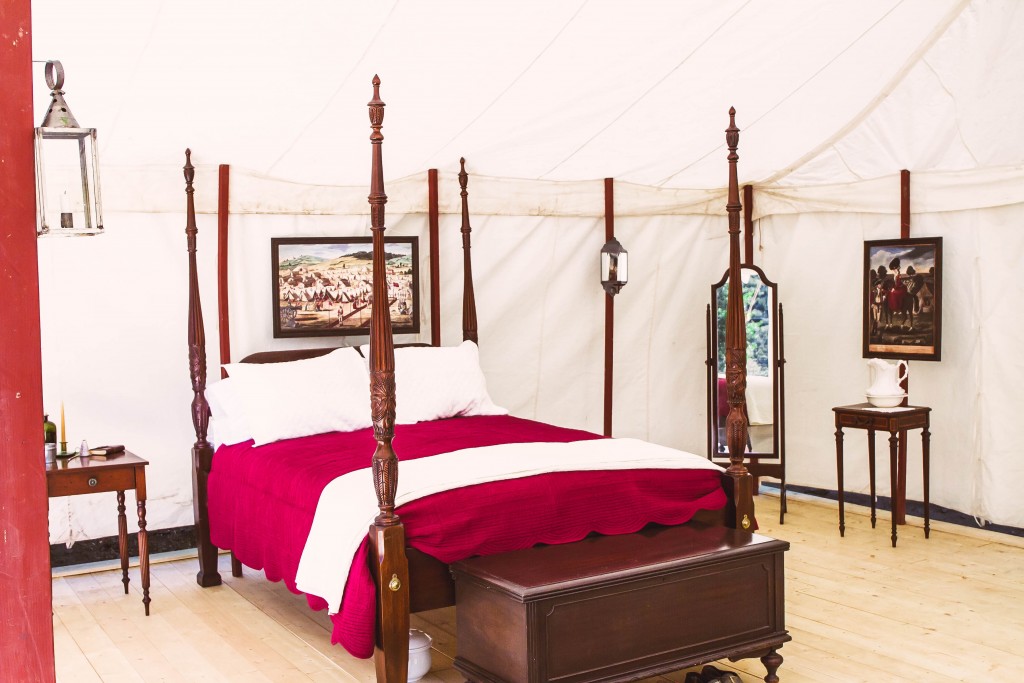 Head-to-toe 18th century attire can be provided for all attendees – or guests may choose to take their leisure and relax in their own modern attire.
Glam camping guests can savor sumptuous, mouth-watering meals in the Hawk's Head Public House over the course of their stay, or choose private en suite dining in their "Captain's Tent".  The menu features delicious items like our famous chicken pot pie with seasoned veggies and homemade Sally Lunn bread, gourmet macaroni and cheese with a fresh garden salad, and our savory open faced English roast beef sandwich with mashed potatoes and gravy.  Breakfast favorites include homemade French toast with bacon and scrambled eggs,  and our famous biscuits and sausage gravy with eggs and seasoned potatoes.  Don't forget to try a slice of our famous freshly baked five pound apple pie, too!  A complimentary bottle of fine wine or sparking cider is also included with both the Couples Getaway and Family Glam Camping options.
A plethora of activities are available in the summer, and all glam camping guests are welcome to explore over 760 acres of natural beauty during their farm stay in Colonial Chesterfield at Riley's Farm.  The heirloom apple and pear orchards are perfect for hiking, bird watching, and photography.  Riley's Farm also offers u-pick berries in the summer months as crops ripen, and provides complimentary archery, tomahawk throwing, and candle dipping activities each Saturday for overnight guests.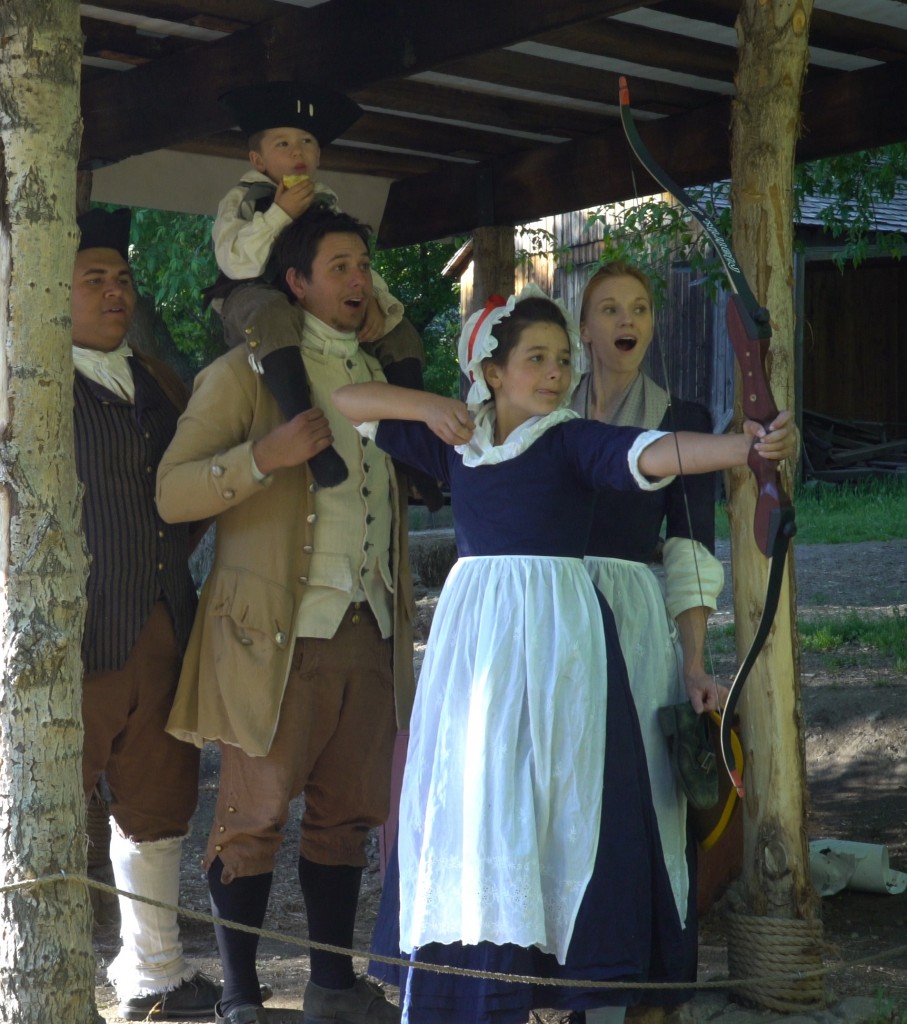 Families who make glam camping reservations during the Colonial Faire event in July also receive complimentary admission to the all-day festivities on Fridays and Saturdays, and receive a 50% discount on admission to the Summer Masquerade dinner theater event on Saturday evenings.  Popular nearby attractions include The Wildlands Conservancy Oak Glen Preserve and Southern California Montane Botanic Garden, the Historic Oak Glen Schoolhouse, Oak Tree Village, and the Edward Dean Museum.
Youth groups can design their own living history summer camping adventure and choose up to five exciting activities from an extensive list of hands-on options, including archery, gold panning, apple pie making, country hayrides, old fashioned games, animal tending, and a guided farm hike.  Up to 36 youth group members can be accommodated on well-appointed cots in the colonial marquee tents. Riley's Farm will include special entertainment in the form of live music, contra dancing (with instructional dance calling), or a performance of Patrick Henry's famous "Give Me Liberty" oration at an additional cost.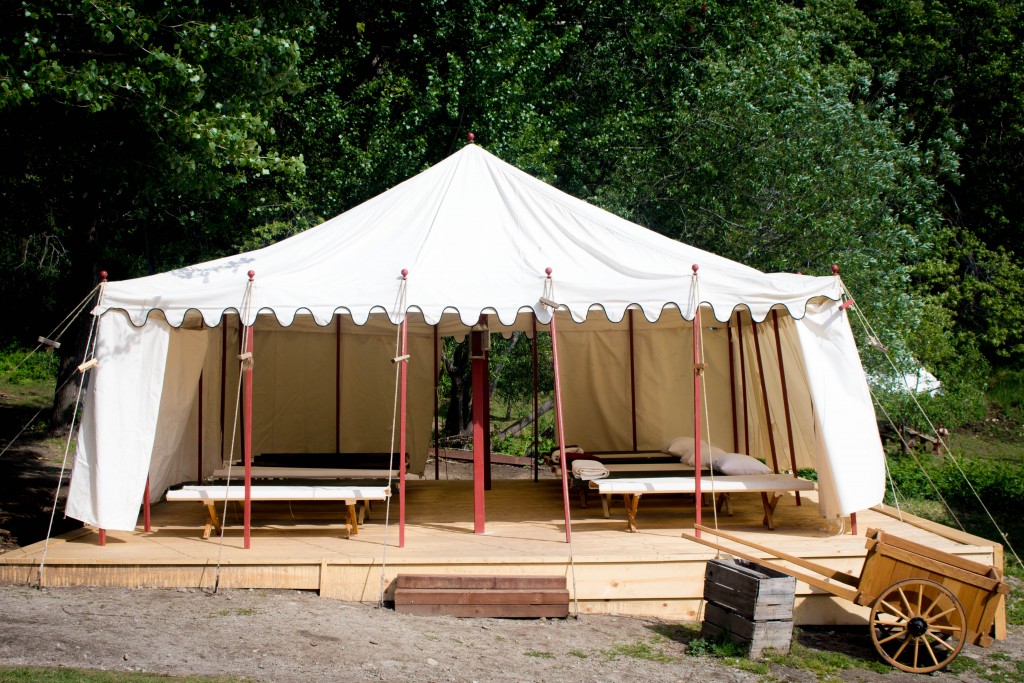 Nestled in the apple growing foothills of Oak Glen, Riley's Farm is a working apple farm and living history field trip destination, and it is the home of the Hawk's Head Public House colonial tavern, restaurant, and bakery, original dinner theatre, and group banquet facilities. Glam camping in Colonial Chesterfield is available Monday through Friday from June through September.  Reservations are required, and can be made by calling (909) 790-8463 or by visiting rileysfarm.com   Complete pricing and package details are listed on the website.  Parking is ample and free.


###

Tags: Colonial Chesterfield, Colonial Faire, couples getaway, couples retreat, design your own adventure, family fun, family vacation, farm stay, glam camping, glamorous camping, glamping, Hawk's Head Public House, Hawk's Head Tavern, living history, overnight stay, private accommodations, romantic getaway, summer getaway, summer vacation, youth camping, youth group adventure


Categorised in: News, Press Release

This post was written by Jim Riley