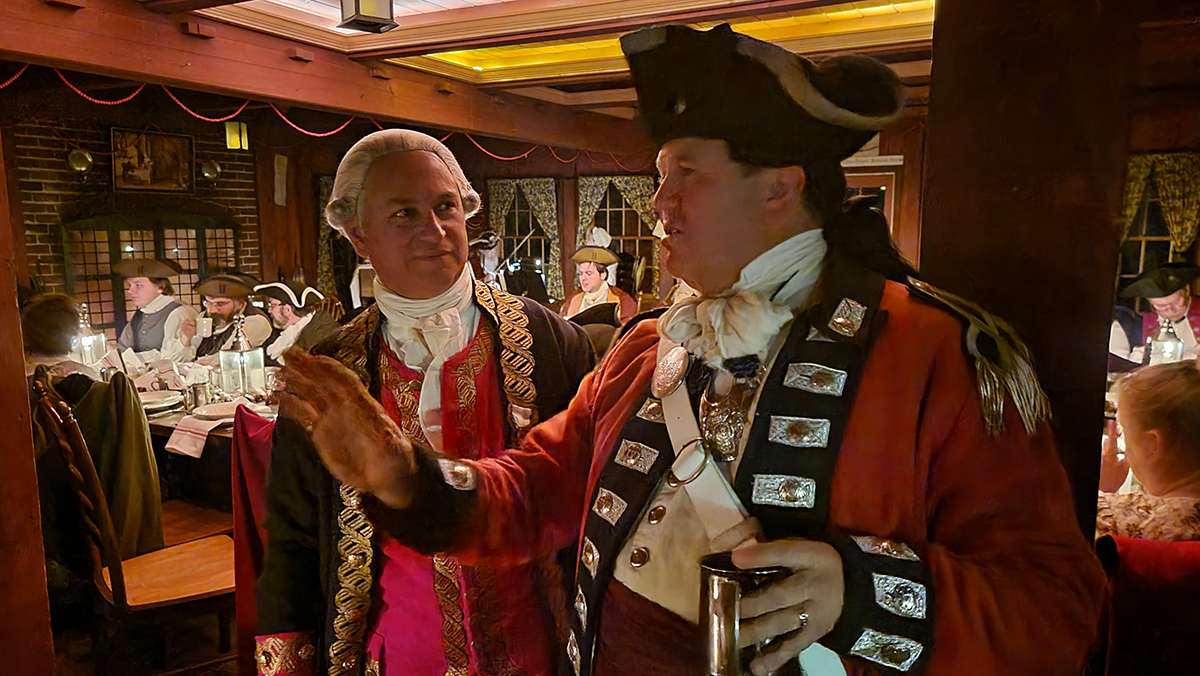 14 Comments
2022 Riley's Farm Dinner Events
As of this writing, you have about 63 hours left to save on our dinner theater events.  (The red-lettered events have already increased in price).  Can we get fifty families to save today?   Continue reading below..
Revolutionary Evenings (Jan – July) ◆ Details  ◆ Tickets
Valentines  (Three Dates) ◆ Details  ◆ Tickets
Finnegan's Wake (March)  ◆ Details  ◆ Tickets
Big Band Night (April & September)  ◆ Details  ◆ Tickets
Mother's Day ◆ Details  ◆ Tickets
Father's Day ◆ Details  ◆ Tickets
Sleepy Hollow ◆ Details  ◆ Tickets
Harvest Feast ◆ Details  ◆ Tickets
Christmas Carol ◆ Details ◆ Tickets
Christmas in the Colonies ◆ Details ◆ Tickets
My Goal for the Packing Shed and the Hawk's Head Tavern
Quite a few people ask me about regular restaurant service in the Hawk's Head Tavern and when, if ever, we might go back to open-to-the-public sit-down, served dining.  Even before the Commie virus era, higher end dining in Oak Glen has endured rough sledding, not just here but all across the glen.  Restaurants of that sort have come and gone.  At one time, the Red Barn actually featured very high end European cuisine, and we've seen themed restaurants come and go in various Oak Glen locations.  We're huge fans of the Oak Glen Steak House and it looks like the wood-fired pizzas of Wilshire's Apple Shed are building a very loyal and steady following, but even long-time Oak Glen institutions like Law's Coffee Shop have endured on-again, off-again status.   As a community, we need more lodging and more calendared events to tempt people up the mountain, beyond the harvest season, (which, ironically, is almost TOO busy for restaurant owners).  For us, as it stands currently, I watch people eating our bakery-window chicken pot pies and braised beef pies and sautéed green beans and they seem to be licking the plates clean, and this "do a few things well" strategy seems to be working for us, in an era where public health authorities — safe in their civil service jobs — can scare the consumers into lock-down mode whenever they hear someone sneezing.
The Tavern Vision, For Now
Music. Drama. Feasting.  Spirits.  Laughter.  Patriotism.
Without vision, the people perish..
Picture this:  One show a night from Wednesday to Saturday  with a matinee on Saturday as well.  A five course, first-quality meal brought to your table between acts of the play.  Live music, of course.  Perhaps an 18th century trooper, on horseback, circling the tavern.   A little variety each week, with new characters, and stories from American history, and a monologue from your host at the end of the evening.  Perhaps some dancing in the pergola on warm spring and summer nights.  Opportunities for the guests to play parts and full-costume evenings where everyone is provided 18th century clothing for the occasion.  Not a sit-down two hour production, but something leisurely presented in vignettes, with breaks in the action, giving the guests a chance to enjoy each other's company.
And this all thematically in celebration of a very radical idea these days:  America is a really, really GOOD idea.  America is an exceptional place, with an exceptional history.   America is worth celebrating.  Would there be room to lament the evils of our past?  Of course.  Every story needs lots of failure, lots of problems, and a good villain or two, but as our eloquent attorney friend laments: "In the era of the 1619 project, we can't tell history 'warts and all.'  We must tell it 'nothing but warts.'"
The peevish race-grievance industry, and the soul-dead Howard Zinns of the academy, have actually created an enormous opportunity for us.  They insist on darkness.  We will cater to those who insist on light.
The Packing Shed
Were money no obstacle, I would create huge, deep "cider caves" near the packing shed where the guests could witness the production of everything from hard apple cider to apple whiskey in the apple-growing equivalent of deep wine cellars.  The packing shed would get a theater/restaurant makeover with a special view to preserving its Oak Glen history.  We would host a live radio show every week with live music, comedy monologues, and sketches — in addition to our existing dinner theater programs.  It would be an opportunity to feature the best live, vintage music in the nation and the folk wisdom of the American story.   We would make fun of Communists, of course, and radical environmentalists and degenerate pop-culture, but we would offer the cure for all of that as well, in the lessons of our past.  You might call it a Prairie Home Companion for the redeemed and the redeemable.
Getting There
My brother Scott reminds me that we've been dreaming about all of this too long and that we need to start raising money and making plans. We need partners, investors, and people with vision to build Emerald City, both here, and potentially across America.  Anybody game?
Categorised in: Dinners
This post was written by Jim Riley