Leave your thoughts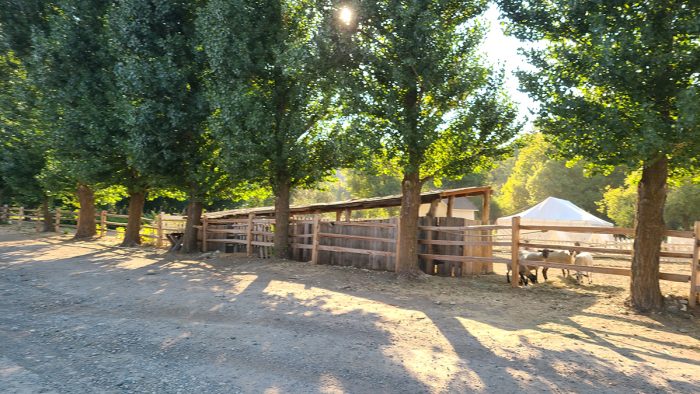 August 16, 2021
Clear, slightly muggy morning.  I punished myself with a 3.6 mile walk in sweats and denim jacket.  I perspire, when I work out, like the late Anwar Sadat — profusely, great pond-ripple sheets of the stuff, losing five full water weight pounds.  This is pointless, I know, and probably the sort of thing that could lead to heat stroke, but it also feels cleansing and something like "just punishment" for weekend indulgence.  If there's any benefit, at all, to this infernal, godless-Commie virus, it's a renewed interest, across the country, in better food, more time outdoors, and a beautiful belligerence about living life while we can.  Covid has created two separate tribes.  One tribe is full of virtue-signaling health pharisees — the sort of people who want their health routines to be your health routines, their masks to be your masks, their vaccine passports to be your identity papers.  The other tribe is full of people who still walk up to you and say, "damn it, Jim Riley, I'm going to give you a hug."
I spent the day in the tavern on Saturday with a few of them.  One woman runs hospitality events for a big national radio show.  Two were public school teachers.  Another couple was visiting from Texas. We talked Afghanistan, Covid, Woke-foolery, union politics, theology, vaccines.  No one at a table of seven people had taken the jab and no one planned to.  We also chatted, at length, about the mandated gender-universalism of our age.  I have a theory that a demand to accept gender-fluidity represents a kind of "sexual socialism," an equal sharing of gender misery, as opposed to the broader "happiness wealth" of sexual capitalism.  We all know, on some level, that the most masculine boys and the most beautiful girls get asked to dance a little more, but they set the standard too.  It's a bit like the forlorn little girl in that Norman Rockwell painting comparing herself, in the mirror, to Jane Russell.  We're happier, generally, trying to better ourselves, even if we never quite get there.  Sex is binary, folks.  Deal with it.  Embrace it.  Celebrate it.
But all the gender weirdness of our age prompted me to make an observation my late mother would probably find scandalous.  Sometimes I feel like telling young people.  "Kids, listen here, in my day and age, there wasn't all this confusion!   We grew up on good, wholesome James Bond movies!  One really smart, handsome dude attracting a lot of beautiful women in bikinis!"
How far we have fallen.  (It got a laugh anyway.)
The Team
In the kitchen, Mary had a little party for one of the crew moving on to college.  Over the years, easily, I guess we've had more than 2,000 people working here and many of them, judging by their social media posts, appear to describe this place in terms of Camelot.  I think that probably has something to do with being 18 to 26 years old, with meeting their mates here, with being at that Camelot age in the first place, but I don't think it's boasting to say most of them had fun here.  Where else can you take a break in an apple orchard?   Where else can you hear the words "okay, clock in–we're going to teach you how to teach the Virginia Reel today?"  Where else does the mamma bear of the establishment send you home with the day's extra chicken pot pies?
It's a FUN place to work.  WHAT ARE YOU WAITING FOR?  Drop us a line.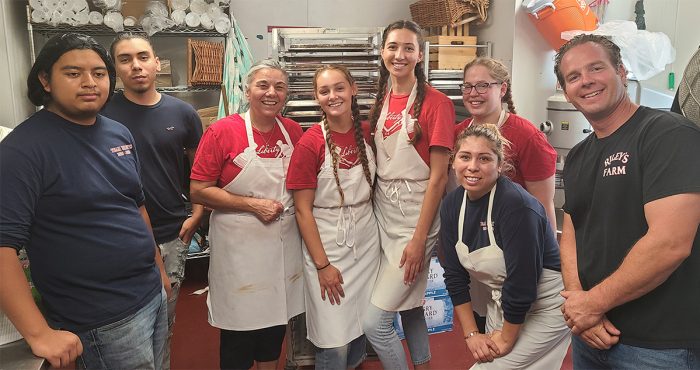 Peaches
We will know more later in the week, but we might have peaches and pears this weekend, in addition to raspberries.  Keep checking in here for details.   We're debating a premium parking pass this fall, for those of you who want a place close to either the Packing Shed or the Hawk's Head Tavern.  The thinking behind "fall Saturdays" and either premium options or parking fees is that we actually worry about the quality of your experience up here.  We don't like attending venues, ourselves, that are vastly overcrowded, but "u-pick" (particularly apples) seems to attract more people than we can usually serve well.  Ponder this in terms of your own profession.  Imagine you are a teacher, and most days of the year, you teach 25 students, but on six days of the year, you get to teach 5,000 students.  More is good, of course, but you want to serve those 5,000 as well as you do the 25.  It's difficult to hire an extra 199 teachers for six days work, so we're left to ponder putting a premium on the most popular days of the year.  Your thoughts (in the comments section below) are appreciated.

Tags: Employment, James Bond, Jane Russell, Politics, Sweating, Tavern, Walking


This post was written by Jim Riley