6 Comments
Very Frightening
We don't mean to freak people out, but some scientists are beginning to worry about an issue that should be of concern to all of us.  You can read the details here, and you probably should do so before going much further, since I'm about to brag and it will help explain the context.
Several years ago, while defending the tradition of Columbus Day on Twitter,  I started to confirm a suspicion that had been growing in me for some time.  First, everyone was being called "racist" for just about anything.  Second, it was perfectly alright to make sweeping, negative, and even ugly generalizations about white people without any sort of reprisal at all.  Go to Twitter now and search "I hate white people."  It will come up over and over again.  No one loses their account for this.  No employer initiates an HR meeting.  No record label pulls their contract and no politician loses their seat for publicly demonizing white people as much as they like.  Truth be told, it probably builds "cultural street cred."  People get a pat on the back for this kind of hatred.
Try the same thing with any other race or identity group — or maybe don't.  You will face social media jail or suspension and you might get called into your boss's office.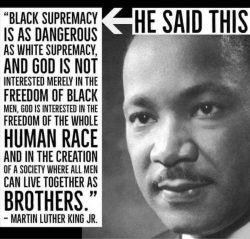 "Classic" anti-racism — the sort of thing we were all taught in the 1960s and 1970s — is pretty simple.  Don't judge any individual by their skin color and be very careful making generalizations about groups in general.  Negative stereotypes can be a burden to anyone suffering from them, including — get this — "old white guys."  Imagine attending a theology conference and telling all the black students they were not allowed to ask questions.  (Only the white students could speak.)  Well, it happened in reverse recently, and academics tell me this is actually quite common.  Don Lemon was even allowed to propose that a travel ban be put on all white men — again utterly without any professional penalty.

No group of Americans, of any color, should have to endure this.  We can't beat racism and bigotry without, well, beating racism and bigotry.  It's so simple, I am perplexed I have to keep repeating it, but I'm getting the sense it is all beginning to sink in.   The Babylon Bee spoof reflects a growing consensus that the tired dictums of critical race theory — "people of color can't be racist," "whiteness is a social evil," "any objection is 'white fragility' — are beginning to wear thin.  School boards are being hit, around the country, by parents who don't want students apologizing for their race, or considering themselves victims because of it either. The charge of "racism," increasingly, is seen as the sort of thing you would expect from someone who never learned how to think critically in school–the thing you expect from some poor millennial who was indoctrinated instead of educated.

When I started down this path, I realized the grievance industry had a very powerful tool.  Any old white guy who stood up and said, "isn't that a double standard?" would be caricatured as a Klansman. Anyone who made the very obvious argument "don't white people have rights too?" would be culturally marginalized, as though they were incapable of understanding the special new academic sauce associated with this socially approved racism.  If you really want to destroy your enemy, in other words, make his simple self-defense appear to be an outrageously parochial tantrum.

It's not working any more, and I'm proud to be among the first to pay the price for opposing critical race theory among small business owners.  When I simply claimed that black people demonizing white people represents "black supremacy" (what it would be called if this happened in reverse), it earned me the ire of some progressive neurotics in the public school system who couldn't believe someone dared to speak up.

On August 31, our federal civil rights suit will go before the Ninth Circuit. We have the chance to tell school boards they can't retaliate against teachers or vendors for having the wrong opinion.   Please consider helping us.  It may be your job, and your children, you save.

Tags: Critical Race Theory, First Amendment, Racism, White Fragility, Whiteness


Categorised in: News

This post was written by Jim Riley