Consider donating to help us in our First Amendment fight..
Dear Friends:
Sad stuff.  I recently discovered troubling news about a staff member who has worked for us for 19 years. He used his social media accounts to heap ridicule and venom on President Trump.  Anticipating complaints from all of you, I immediately terminated him.  He also has a part time job with a local school district and I used my influence there to get him fired there as well.
Just kidding.  I wouldn't do that.  I'm a conservative and a Christian and I welcome a difference of opinion. I hire a very diverse staff, and whenever I tearfully remind the students about the historical sacrifices made to secure the Bill of Rights I really mean it.
Unfortunately, there are "civil servants" here in Southern California who actually hate the First Amendment.  We have served these teachers and administrators for more than 20 years — making history interesting for their students.  Our living history field trips are wildly popular and they have never been political, but because I ridiculed, on my own time, Louis Farrakhan, Stormy Daniels and David Hogg — my entire company was blacklisted.  Yes.  These "civil servants" effectively terminated the jobs of dozens of people for my political opinions.
Multiple attorneys told me this was a clear violation of my First Amendment rights.  Any citizen can boycott any company they like, but public servants can't retaliate against an employee or vendor for not voting, or speaking, the way the agency thinks they should.  If they could, government could use its enormous power to tell you what to think.  Want to be a fireman in this leftist town?  Make a contribution to Planned Parenthood.  Want to get a painting contract in this conservative suburb?  Become an NRA member.
The case was so clear even an Obama appointed judge was ruling in our favor during the first two years of this grueling process.
Unfortunately, we have a hit a snag.
In a baffling change of course, this federal judge has DISMISSED our case against Claremont Unified School District–making use of patently flimsy, result-oriented reasoning. We now must appeal it to the Ninth Circuit where our lawyers believe we stand a good chance of reversing the lower court's decision. The details follow, but the bottom line is that I need to raise a lot of money in the next 30 days – or my battle for the First Amendment is over.
I guess I was naïve to think that we could get a fair hearing from this judge, a Democrat who prior to his ascension to the federal bench cut his teeth as the head of the public defender's office. He not only granted the school district summary judgment on a basic legal ground he has since conceded he got wrong, he then doubled down by saying his mistake was merely "harmless error" and granted the district's summary judgment motion on FACTS AND EVIDENCE THAT WERE NOT PRESENTED TO THE COURT IN THE MOTION! It was as if the referee had thrown down his whistle and started throwing blocks for the other team.
Not only am I appealing the case against Claremont, I have now filed a second lawsuit against eight other school districts who conspired to boycott Riley's Farm. Unfortunately, because the two cases are deemed "related," our new lawsuit is in front of the same unfavorable judge. (And by the way, this is the same judge who refused to allow Harvest Church to conduct worship services inside the church even if the congregation complied with all state safety guidelines!)  Unless the Court of Appeals corrects his error and gives him a good scolding in the original case against Claremont, he's likely to rule the same way in the new lawsuit against the other districts.
Up to this point, I've invested more than $100,000 of my own money in the Claremont case. Our lawyers believe we can ultimately prevail. But to mount an appeal and litigate an additional lawsuit, I cannot personally afford to underwrite the legal fees, even though the lawyers have greatly discounted their usual hourly fee.
That's why I need your help.
I have been tempted to give up, and may still if our local and national supporters aren't in this with me, but I'm afraid of a "public agency group-think America."  Ponder this one: I criticized the genocidal racism of Louis Farrakhan.  As a result, Claremont deemed my living history farm "child-dangerous" for literally echoing Martin Luther King's declaration that "black supremacy is as dangerous as white supremacy."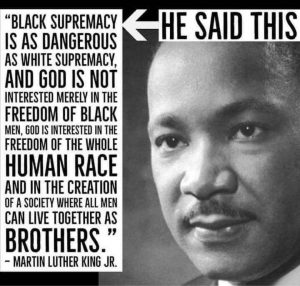 Think about it.  The powerful, universal message of the Civil Rights Movement's golden age – that we are all Americans together, equal in the eyes of God and the law – is now deemed inappropriate!  We are now ordered to take a knee and subscribe to an identity-obsessed "woke" dogma … or lose our jobs?
More broadly, I know employees of corporations who can't speak their minds – on or off the job.  I know a college professor who believes he will lose his position if he doesn't check the box that reads "all white people are racist."  I know a local woman who lost her job for the wrong social media opinion and I have a very close relative so afraid of social media reprisals he's shut down all his accounts.
Is this the America our parents wanted for us?  Do you want your grandchildren unable to rent an apartment, apply for a job, or buy a home if they don't agree to the cancel culture's politically correct coercion?
If you want to fight back, our case represents a very clear, powerful opportunity to put fear in the hearts of "cancel culture" government tyrants. If we win, civil servants and vendors all over the country will win too.
In the next 30 days, I need to raise $50,000 to cover the litigation costs in both lawsuits. You wouldn't believe how much time and effort my lawyers have put in and are willing to put in. But these are talented professionals who can't accept these cases on contingency.
To support our appeal, you can make donations at:
https://store.rileysfarm.com/product/make-a-donation/
Ponder something else: imagine a legal war chest so large it strikes fear in the "cancel culture" vultures?   Ponder conservative and Christian public servants emboldened to speak because they know they can strike back?  
Many of you have already given and these are tough times, but some of you know people who can write a check for $10,000 or more without even feeling the pinch — knowing it's dedicated to a good fight.  If you are in a position to make a large tax-deductible contribution to the public interest law firm helping us make this fight, email me and I will put you in contact with our attorneys there.  It's not just about money either.  It's about exposure: some of you know the right email lists, the right media outlets, and the right social media influencers who can spread this campaign far and wide.
I would rather talk to all of you Riley's Farm guests about developing Riley's Farm.  I see the now barren hills re-forested.  I see guest cottages.  I see cideries and trails and a place for families to visit.  I see a re-created New England Meeting House.  I see a place where we can celebrate American history more richly — but how can I celebrate an America that isn't there anymore?
I'm thinking of rambunctious little grandson of mine. He's a character.  I know someday, he will come to feel deeply about his freedom.  I know he will want to speak his mind.  The America I want for him is disappearing and I want it back.
Sincerely,
James Patrick Riley
Riley's American Heritage Farm
P.S.     I can assure you that your support will not be taken for granted. You know me. And if you don't, then you should hear it directly from my supporters.  One of them wrote me yesterday…
"I will share this with every conservative group I'm in and will donate as much and as often as possible, James Patrick Riley. You are a voice of reason in a sea of chaos and I know that if we can get your story out to the masses, they will stand with you. WE will stand with you!! Holding you and yours in prayer."
Categorised in: Blacklisted, News
This post was written by Jim Riley