Crop Report September 10, 2019
Finally!  We can see Fall just ahead.  We have had cooler temperatures during the day and the brisk nighttime air.  Pumpkin Spice is being touted at different eating establishments, and even Dairy Queen is dipping the ice cream cones in butterscotch for that "pumpkin color".
APPLES
This week in the apple orchard U pick we will have Gravenstein's, Gala's and Senshu's for your picking delight.
Gravenstein's are a very old apple of European origin believed to have originated in the 1600's with Duke Augustenberg of Castle Graefenstein ( 

Gravenstein

) in Germany. It was introduced into the United States in the 1820's by Russian settlers moving into California. This is a tart apple that sweetens as it is eaten.  Eating or cooking.
The Royal Gala was named in honor of Queen Elizabeth II, who deemed it her favorite during a visit to New Zealand. It was brought to the United States in the early 1970s and is now one of the country's most popular apples. Crisp, juicy, and very sweet, Gala is ideal for snacking. Galas can vary in color, from cream to red- and yellow-striped.
Senshu is a newer apple (introduced in 1980), with a taste reminsicent of a Jonagold.  Sweet and crisp – best for eating (not cooking).   It is a cross of a Toko and a Fuji.  Red and yellow striping with a white flesh.
PEARS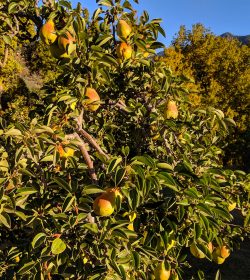 We have an abundance of pears and they are in that perfect spot for picking.  As a reminder from last week's crop report:
Pears

are one of the few fruits that ripen OFF the tree.
IF you leave the

pear

on the tree to ripen, it does so incorrectly and will ripen from the middle outward – leaving a mushy, overripe center with varying degrees of mush throughout.
They will come off the tree when you lift up slightly on the

pear

and do a slight twist. Only a 1/4 of a turn.  If it does not come off with this method, then it is not ready – just move on to the next fruit on the tree.
Now that you have your

pears

off the tree and at home – how do you get them to ripen?  For the most consistent (and best result) – place your

pears

in the refrigerator or a cool place in the house (optimum temperature being 40F).  But, if you don't have room in your refrigerator – do not dismay – you can leave them on your countertop and they will do just fine (just keep them out of direct sunlight).  This may differ from the way you store your

pears

from the grocery store because the

pears

from the grocery store have already been placed in cold storage from the grower and distributor.
BERRIES
We are light on strawberries this week.  Even though they can be small, they have a great flavor and are deep red throughout.
Medium on the blackberries.  They have been frequently visited by our pollinators throughout the season to give you a 

large, robust berry.  As a reminder, these are heirloom canes – so the berry is great for cooking and has a complex flavor.
The raspberries are still going strong – hurry and get them while you still can.
The Zinnia blooms are out of this world  –  it is easy to see why they are one of the favorites of U pick enthusiasts throughout the country.
This season we added to our sunflower field – not only do we have the standard sunflower, but we have deep burgandy red and lemon yellow to give your sunflower bouquet blooms that aren't available elsewhere.
As cute and quaint as our pumpkins are right now – they are NOT ready for picking – so please let them continue to grow – they are just fantastic and we will have several varieties ready for you throughout the Fall season.   PLEASE do NOT venture out into the pumpkin patches (as tempting as it might be)  as we need to leave the fields undisturbed for optimum growing conditions. 🙂
We look forward to seeing you this week!
Categorised in: Apples, Blackberries, Pears, Pumpkins, Raspberries, Strawberries, U-Pick
This post was written by Shellie Milne