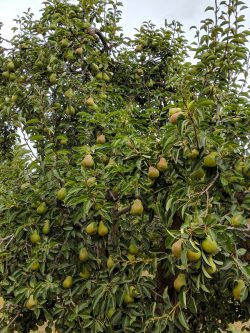 The warm (hot) weather has certainly moved the crops along.  As always, the heat is a welcome thing for crops like pumpkins, flowers and apples – but not so great for the berries – it slows production a bit, especially in the strawberries (and the humidity is bothersome for them as well)
The strawberries in the new patch are BEAUTIFUL!  Large, deep red red and FULL of flavor.  These are the new plants that we planted this Spring – and they are producing just wonderfully for 1st year strawberries.  The older strawberry fields are very light this week  as they are older – so the heat and humidity is not a welcome combo for them.  There are still strawberries – but  not as much as we have in the cooler temperatures.
Our one ABUNDANTLY PRODUCING mulberry tree is now ready to pick.  (Pick the very dark ones and be warned: they are juicy, messy, and stain-producing.)
The raspberries are producing quite well but we're fighting a pest problem with the OVERRIPE berries.   We expect to open the patch for picking Thursday 8/8/2019
Ollalieberries are doing great!  Come on up and grab yourself some of these heritage berries.
Blackberries are really coming on strong and, when picking, make sure to get the deepest, darkest color to ensure that you get yourself the ripest berries – an unripe blackberry will be hard to the touch and lighter in color.
Our apples are starting to put on a blush of color in some of our varieties – when you grow apples – you can see the color change more than once a year.  So excited for our upcoming apple season!
Pears and peaches are really coming nicely – for those of you in the lower lying areas that may already have their peaches, remember that we are at a much higher altitude – and the variety of the fruit also plays a role in the ripening process and  date.
As for our flower fields – their plants are growing and basking in the sun – the Zinnia's are really liking their "new home" – we moved them to the back of the pumpkin patch this year as we are incorporating crop rotations now.  This year we have included some new flowers into our traditional favorites of Zinnia's and Sunflowers – this year we are also including Bells of Ireland, Queen Anne's Lace and Sun Balls – We consulted with flower fields all over the United States and found that these flowers would give you ample opportunity to design gorgeous bouquets that would last.
Our Indian Corn is over knee high – so it will be ready for your Fall decorating needs!
And lastly, but certainly not least –  the pumpkins are growing nicely and we are excited to offer some new ones this coming season.  We will always offer the favorites lime Cinderella's, white pumpkins and jack – o – lanterns – but this year we will offer warty ones, blue ones, striped ones and grey ones as well.–
Shellie Milne
Agricultural Manager
Riley's Farm
Categorised in: Apples, Blackberries, Pears, Pumpkins, Raspberries, Strawberries, U-Pick
This post was written by Jim Riley