We Are Being "Berry" Patient This Week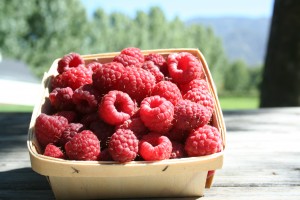 Berries are peculiar thing – what is good for the goose is not always good for the gander.  This week on the farm, we are offering a medley of berries because the weather is having a different effect on the various varieties.
The raspberries are GLORIOUS.  They make me want to sing songs about how good they taste.  They taste like summer should taste.  And they are in abundance,  with many more coming on.
There are several ripe mulberries in our lone mulberry tree down in the Colonial lawn (by the store),   and many more that will be ripening in the weeks to come.
Our strawberries are in a rotation at the moment – so please be patient with them.
Our older patches are in their last season (they will be replanted this upcoming Spring)  – they still have berries – but this week they are a bit light on the berries.  The heat is definitely not a strawberry's friend – but these plants are really producing better than they should be.
As part of the rotation, we have planted 2 new strawberry fields.
 The "older" of the two new patches (a few months old),  is bearing fruit and the shape and taste is fantastic.  They are medium in abundance, but they should hold out for the week (make sure to ask one of the lovely shopkeepers when getting your basket about availability as the week progresses – sometimes we can get very eager pickers).
Our newest patch (just a few weeks old),  is putting on leaf and they are getting ready to be strong bearers.
The Olallieberries are out this week.  There may be a few on the vines here and there, but it is very sparse and very random.  We actually got an extended season with the Olalliberries this year – a few extra weeks!  Last year, we were out by the 1st of August – so come and get them before they are gone until next year!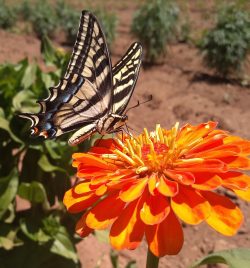 Blackberries are LOADED with berries …With that being said, you must mind WHICH berries you pick – you will see clusters of white, red and black berries – sometimes a cluster will have all three colors.   As always – the deepest black are the berries that are ripe.  They are a heritage variety (not commercial), so they are full of complex flavor that is suitable for eating and baking.  And as for the red and white berries? well those will be ready in the weeks to come (as if you needed a reason to come on back and see us).
The Zinnia's are blooming early this year and are just gorgeous.  The more we cut the flowers. the more they will grow.  We grow the giant Zinnia's so you can make a really beautiful, colorful bouquet.
The butterflies were LOVING the Zinnia's today (as were all the pollinators)!!
UP AND COMERS
The apples are coloring up!  Apple season is not far away!
The pears are really lovely and in abundance … not ripe – but looking like a really nice crop.
The pumpkins are really coming along… I am loving the foliage on the different varieties.  We are trying out different heritage varieties this year, alongside our tried and true favorites – so this pumpkin season will be spectacular
Though the Zinnia's are ready to pick (early) – our Sunflowers, Queen Anne's Lace, Sun Globes and Bells of Ireland are all coming up nicely and will be ready for the picking soon!
Categorised in: Blackberries, Raspberries, U-Pick
This post was written by Shellie Milne