FOR IMMEDIATE RELEASE January 29, 2016 Contact: Sheri Shields Sheri@rileysfarm.com (909) 790-TIME (8463)
SEASON PASS PROGRAM LAUNCHES IN OAK GLEN
Riley's Farm Theatre Company offers patrons new ways to save on 2016 shows!
Season subscriptions are now available for 2016 dinner events at Riley's Farm, and Riley's Farm Theatre Company is proud to present a new savings solution for loyal patrons who make memories at RFTC shows throughout the year in scenic Oak Glen.  Guests save 15% off the average show price when purchasing a 7-10 show pass.  A discount of 10% is applied to season pass purchases of 4-6 shows.  The season pass program was created to allow farm friends of all ages to experience a wide range of diverse theatrical offerings at an affordable price. 
Riley's Farm Theatre Company is honored to produce ten unique, family-friendly dinner events in 2016 in two charming, rustic-chic historic venues nestled in the apple-growing foothills of Oak Glen.  Productions spring to life in Colonial Chesterfield at the Hawk's Head Public House – a quaint, candle-lit 18th century pub – including The Harvest Feast in November and Christmas in the Colonies in December.  Colonial dinner events feature farm-fresh feasts served in courses (or "removes"), live music, activities like tomahawk throwing, 18th century dancing, and interactive heart-warming historical drama.  
Eight unique RFTC dinner theater productions find their home in the historic 19th century Packing Shed theater in Heritage Homestead, including three returning fan-favorite stage adaptations from classic literature: Sir Arthur Conan Doyle's Sherlock Holmes, Washington Irving's The Legend of Sleepy Hollow and Charles Dickens' A Christmas Carol.  Debut performances of original productions will include melodramas The Ragtime Medley and Riding Hood Goes West (written and directed by Nicholas Riley and Eric Drazin, respectively), and Bram Stoker's classic vampire tale Dracula (adapted for the stage by Eric Drazin).
To highlight the spectacular music, culture, and comedy of the early 20th century, the Packing Shed theater also features two themed dance nights – Rockabilly Night in August and Big Band Night in September – full of live, toe-tapping music, comedy routines, hayrides, mouth-watering food, locally crafted brews from Hangar 24, and the fine fashions of the 1930s, 40s, and 50s.
All Riley's Farm Theatre Company productions take place on Riley's Farm (12261 S. Oak Glen Road, Oak Glen, CA 92399), with events running from March through December.  Saturday evening performances take place from 6:00 PM until 9:00 PM.  Thursday and Friday evening performances take place from 7:00 PM until 10:00 PM.  Doors open 30 minutes prior to the event start time.  Events range in price from $15 to $55, and the average show price is $42 (before the season pass discount is applied).  Season passes and individual/group event tickets are available by calling (909) 790-8463 or via the web at rileysfarm.com  Group discounts and private performances are also available by advance request.  Reservations are required for all RFTC dinner events.  Parking is ample and free.

####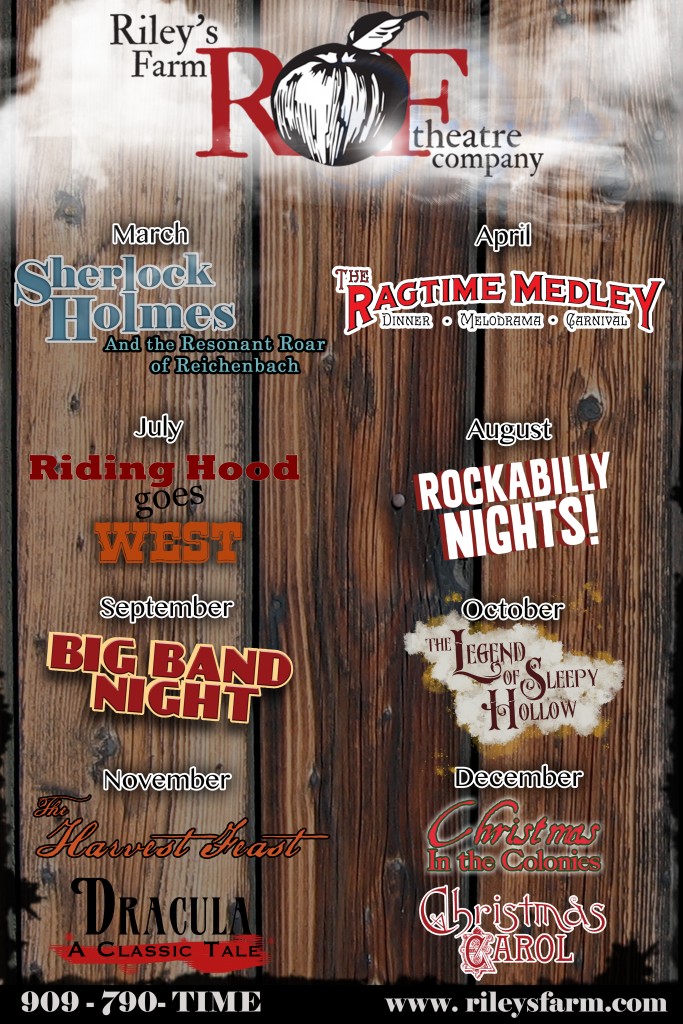 Tags: A Christmas Carol, Big Band Night, Christmas in the Colonies, dinner event, dinner show, dinner theatre, Dracula, drama, family, friends, loyalty, murder mystery, reward, RFTC, Riding Hood Goes West, Riley's Farm, Riley's Farm Theatre Company, Rockabilly, Rockabilly Night, savings, season pass, season subscription, Sherlock Holmes, Sleepy Hollow, The Harvest Feast, The Legend of Sleepy Hollow, The Ragtime Medley, theater


Categorised in: Dinners, News, Press Release

This post was written by Jim Riley