A Look Inside 221B
It's a little daunting when every play you are a part of is prefaced with "…and by the way this is the most ambitious play ever attempted here at Riley's Farm…" but if you have a great cast you can begin to trust that things will fall in place where they belong. The improvement in the theatre department has been with great leaps and bounds. The sets were little more than black box stages when I first was able to finagle my way into the plays; now they are intricate and set a tone that aids us as actors. It's a wonderful thing to be a part of and watch grow from up close.
Yes, this play was indeed longer than the others. It also had a lot more blocking than we are used to. For industry standards, the length of the play is actually quite short. A play written for Broadway, for instance, will have several acts, multiple scenes within each act, and an intermission somewhere in between. It's like watching a trilogy marathon over a rare but treasured "leisure time" weekend: potty breaks are necessary.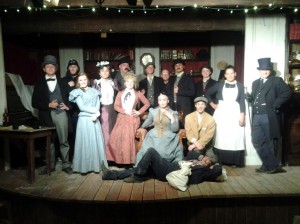 Our dinner theatre is a different beast. We aren't presenting Shakespeare, after all; and where most businesses of our kind have different crew for set up and break down, or caterers and servers for the dinner service… there is only us. One crew of hard-working devoted actors which must set up, break down, apply character hair and makeup, serve, smile, act our hearts out, and cross our fingers not to drop a line. We are multitaskers of the greatest variety.
Categorised in: Dinners
This post was written by Jim Riley