"Cast a wide net. They're out there. You'll find them!"
The search was on. Who were these elusive people we were looking for? Where could they be? And, when they were found, what would motivate them to make the trip and play along? The producers at Colony Bay had given me the chance to cast and coordinate background actors for an episode of Courage, New Hampshire titled "Ambition". Finding those dozens of men, women, and children was a beautiful challenge – and getting to know them has been quite a valuable education, indeed.  We weren't casting a few roles for day players – we were creating an entire community!
Background actors – a.k.a. "background" – help to orient the viewer and to provide the context for a scene, often adding diversity, texture, and movement. To create the bustling, rich, energetic militia muster scene we needed more than 80 people to volunteer their time on a hot Saturday in July to dress up in 18th century attire as background actors. We're talking about British Regulars in woolen redcoats and powdered wigs, here.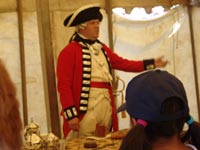 We needed militiamen on horseback, colonists marching and firing muskets, lovely ladies cooking and crafting, an entire traveling tavern, merchants, animals, and lots of kids playing and watching the spectacle.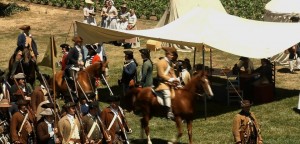 This video offers a peek at how the militia muster turned out, and at our fabulous extras in action!

Note: Background actors from "Ambition" are featured at 0:14, 0:30, and 0:40 of this series trailer, and you can watch the entire series now on www.ColonyBay.TV

Our talented and brave cast of background actors was diverse, and traveled from all over Southern California to be a part of filming.  You won't believe who we met that day…

Tags: Ambition, background, casting, Colonial Faire, Colony Bay, community, courage, extras, filmmaking, history, Independence Day, militia muster, redcoat, reenactment, Riley's Farm, summer vacation


Categorised in: Courage, News, Pictures

This post was written by Jim Riley