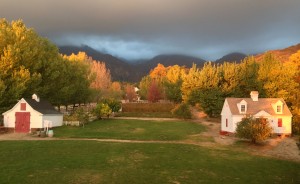 Almost every morning, outside my window, I get to watch an 18th century New England village getting ready for the day.  The blacksmith gathers his tools; the militia captain slings a musket over his shoulder; the tavern maids carry milk churns and hand looms across the stream to the summer kitchen. 
Across our township green, Nellie opens the massive doors of  a little Vermont style dairy barn, and down the path, a young, well dressed 18th century gentleman springs down the brick steps of a small clapboard building that might serve as the law offices of Patrick Henry Scotchtown's estate, in 1773.  (In fact, this building serves as the most elegant public restroom in these parts.)
Of course, the needs of the 21st century intrude..
Categorised in: Bakery, Courage, Dinners, Pictures
This post was written by Jim Riley