Apples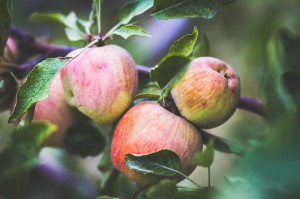 All fruit is sold by weight.  $3.50 per lb.
Oak Glen is famous for its apples, and we're proud to have one of the largest orchards in The Glen. We also support a large assortment of apples, with over 30 varieties. We have trees that are over a hundred years old, planted by the original Oak Glen family, and we have trees less than a year old. Every year we  plant new trees to restore old orchards that have been forgotten or damaged.
We specialize in "heirloom" apples, which are apples that have been all but forgotten until recently. Modern grocery store culture has bred the flavor and life out of many varieties in order to get pretty apples that last on the shelves. While we have some modern varieties, our favorites are the ones we grow for their wonderful flavor and uses. Some of those apples may be a bit ugly or weather marked, but boy do they taste good!