Revolutionary War Overnight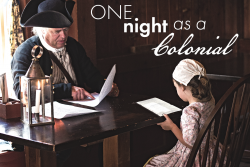 The Revolutionary War Overnight on the grounds of Colonial Chesterfield at Riley's Farm combines our popular day time Revolutionary War Adventure with an evening of living history fun in our recreation of a New England farmstead from the 18th century. During your stay, you can expect plenty of authentic characters, great food, fun activities and contests with delicious prizes!
A typical journey begins in the evening at 5:00 PM when guests are assigned a cot in their sleeping quarters, take part in an orientation meeting and are then divided into groups called "townships."  Students then undergo martial training as well as a few additional activities not usually featured on our day trips. After a enjoying a full meal accompanied by live 18th century music in our Hawkshead Public House, guests will be paid an inspirational visit by the legendary Patrick Henry, while rounding out the evening with apple crisp! Cabins and marquis tents will typically house weary guests as they slumber soundly in preparation for a very full day!
At dawn, overnighters explore some of the farm's vast 760 acres by reconnoitering the top of a local hill and standing watch for the British army. After skirmishing with the redcoats, guests will return to the tavern to enjoy a farm breakfast of eggs, bacon, french toast casserole and orange juice. By the time breakfast is over, games and last minute preparation will be a welcome respite before the day's Revolutionary War Adventure!